Salesperson App Status Report provides an insight of the Salesperson's App Status for the respective date chosen.

The Sales Managers can use this report to measure the productivity of a Salesperson by tracking their Salesperson App Status for the specific chosen date. This is a static report in which the data of the report will not change over the time period.
To generate the salesperson app status report kindly follow the following steps:
1. Go to report > choose Salesperson App Status.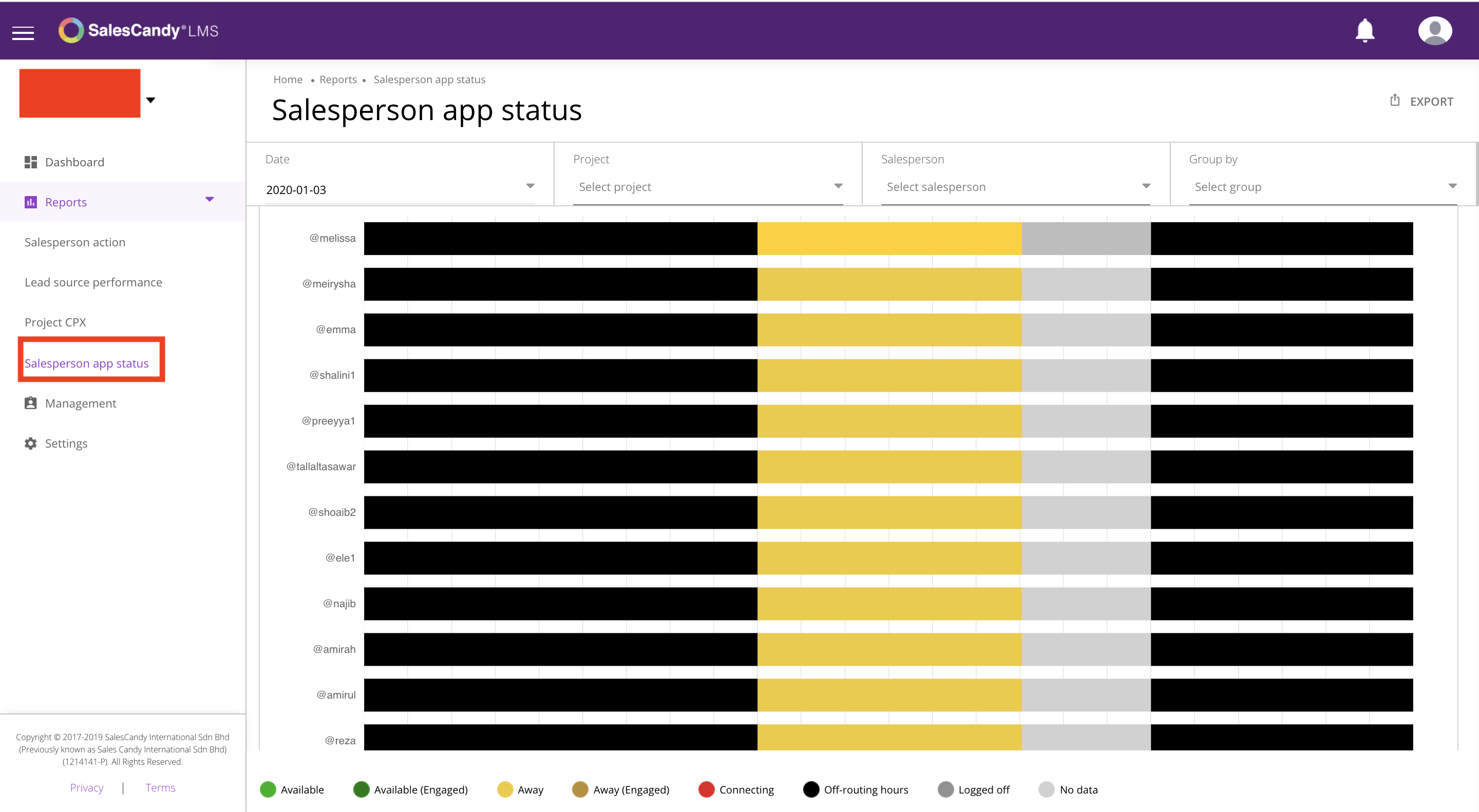 2. Select a date. 

3. Choose the Project that you want to generate the report
A project manager will be able to see data for projects they are managing
A super manager will be able to see data for all projects

4. Select either a specific Salesperson or for All Salesperson.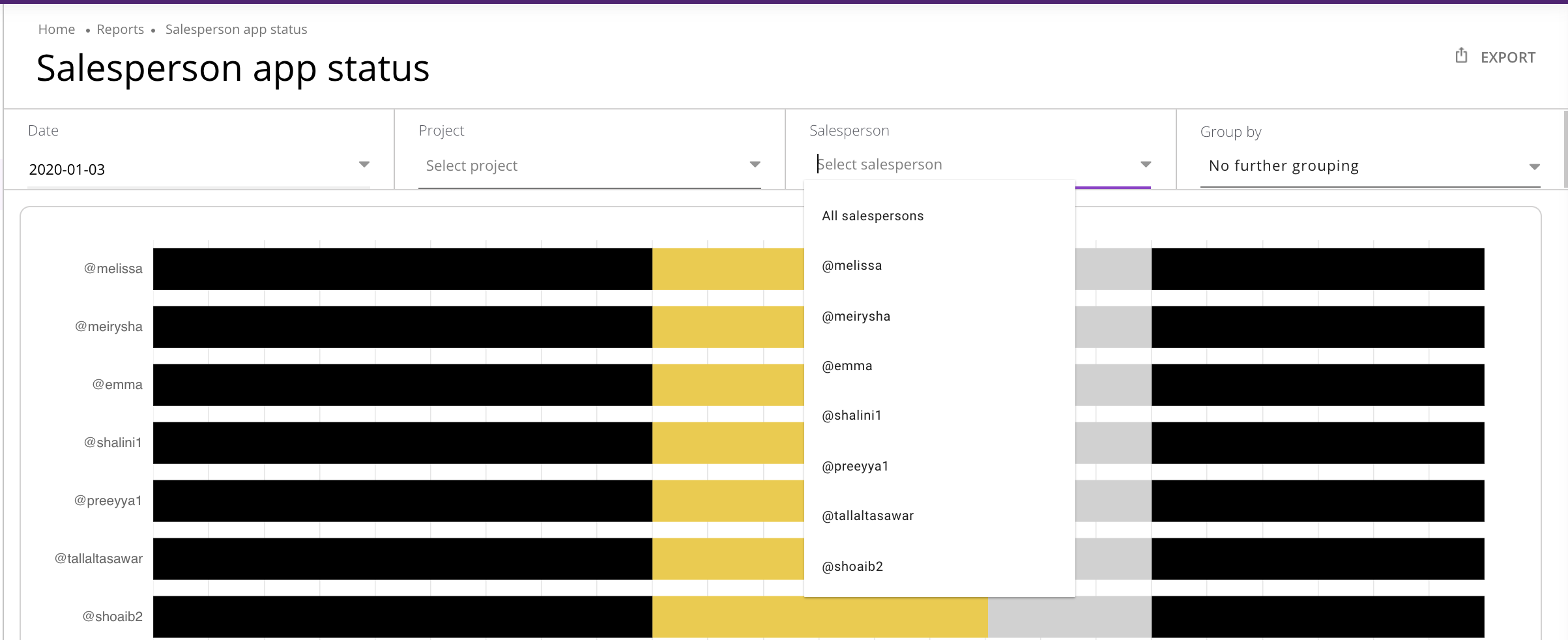 5. Choose Group by
No further grouping
Project
Sales team

To download the report, you can click either Export XLS file.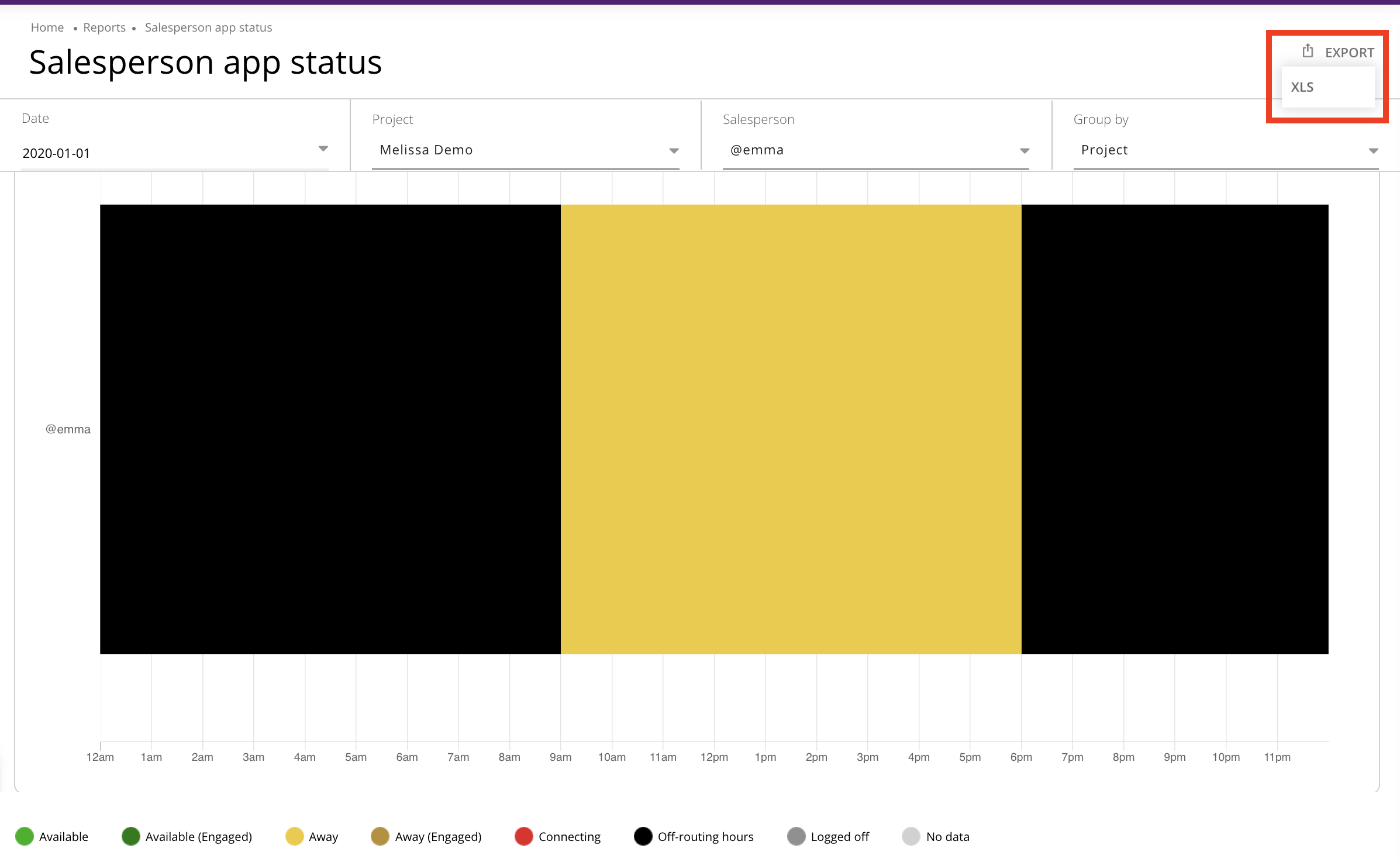 This is how the report would be downloaded : 
Report Glossary : 
1. Date: Date chosen for the report 
2. Salesperson: The selected salesperson or all the salesperson choose from the dropdown
3. Total Routing: This is a total number of minutes which is counted based on the routing hours for the day,
E.g: 09:00 AM - 08:00 PM = 60 x 11 Hours = 660 minutes
4. Available: The total number of minutes that the salesperson was Available / Available-Engaged
5. Away: The total number of minutes the salesperson was Away / Away-Engaged
6. Disconnected: The total number of minutes the salesperson was Disconnected / Disconnected-Engaged
7. Logged out: The total number of minutes the salesperson was Logged out
8. Data: The data that makes up the graph
1 - away (yellow); 2 - available (green); 3 - off-routing (black); 4 - disconnected (red); x - no data (light grey)

E.g: 542:3|147:1|512:4|239:3
By referring to the generated graph:
a. 542 minutes of Off-routing,
b. 147 minutes of Away,
c. 512 minutes of Disconnected, 
d. 239 minutes off routing