CandyMail is an email address added to the client landing page, website and google form that captures information of lead submitted. Also, it serves as a backup for lead sources that currently using CandyPixel.
How CandyMail works for landing page and website?
1. Once there is a lead submitted, both CandyPixel and CandyMail would have captured it.
2. In case the lead was not captured by the CandyPixel due to various reasons such as eg; AdBlocker in the client's browser (also, if the adblocker checkbox is unticked in the CandyPixel lead source setting), CandyMail would capture the respective lead accordingly and route the lead to SalesCandy.
3. Although the leads would be captured in 2 lead sources, CandyPixel & CandyMail, the system would filter the duplicate automatically and only route one lead to SalesCandy.
How to setup CandyMail?
Ensure that all the lead submission notifications from the landing page/website are sent to a master or backup email address in your organisation in order to set up the CandyMail accordingly.
◍ Go to the portal, choose management and then click lead source.
◍ Click on the '+' icon on the top right of the page and select CandyMail (Email Parser) option.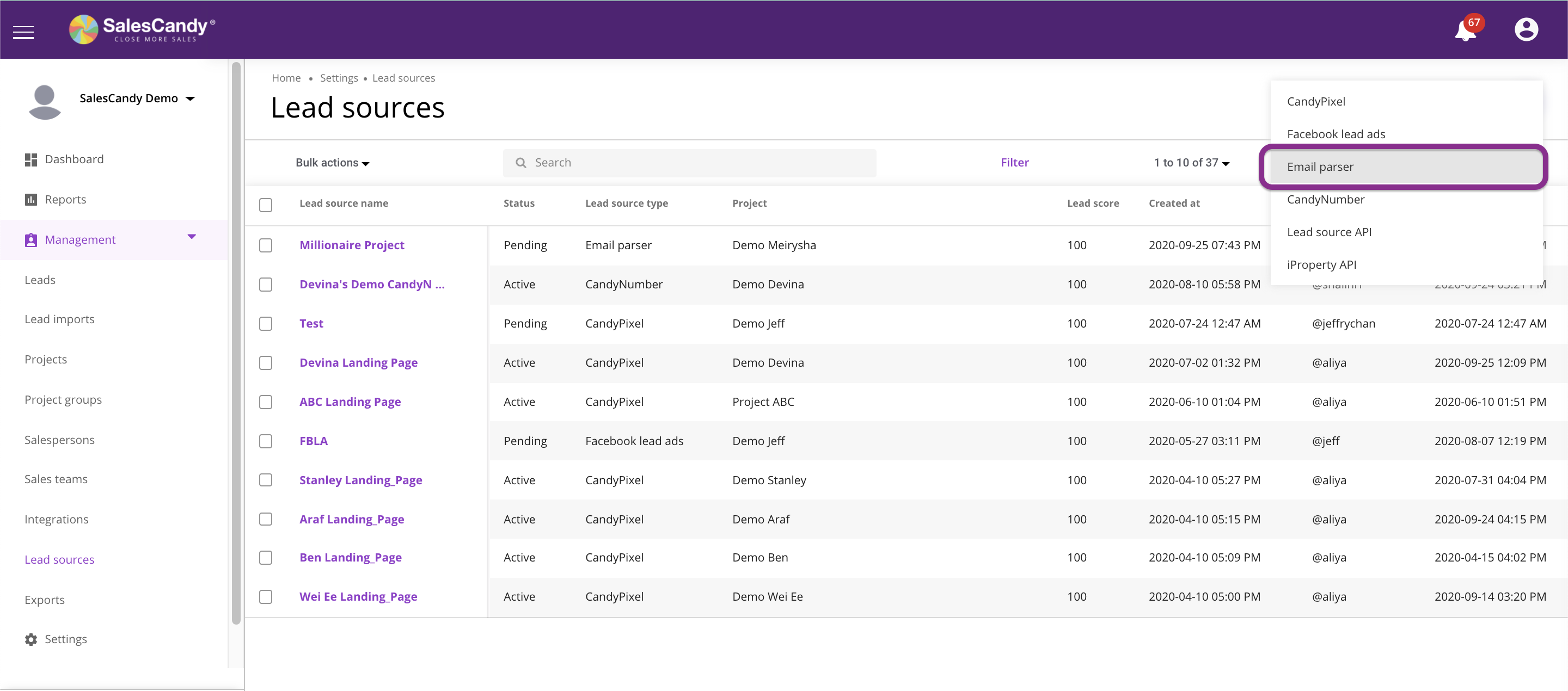 ◍ Fill in the respective lead source details in setup lead source page;
► Disable routing: Only tick this checkbox if you wish to accumulate the leads and does not want to route the leads.
► Lead source name: Fill in the relevant lead source name.
► Lead score: Set the lead score to 100 unless you do not want the leads to be prioritised, then set to low lead score.
► Field mapping method: The mapping should be automatic as the lead source would pull the lead's information automatically.
► Email source type: Choose HTML.
► Choose project/projects: Select the project the leads to be routed.
Click 'Next' once the information has been filled.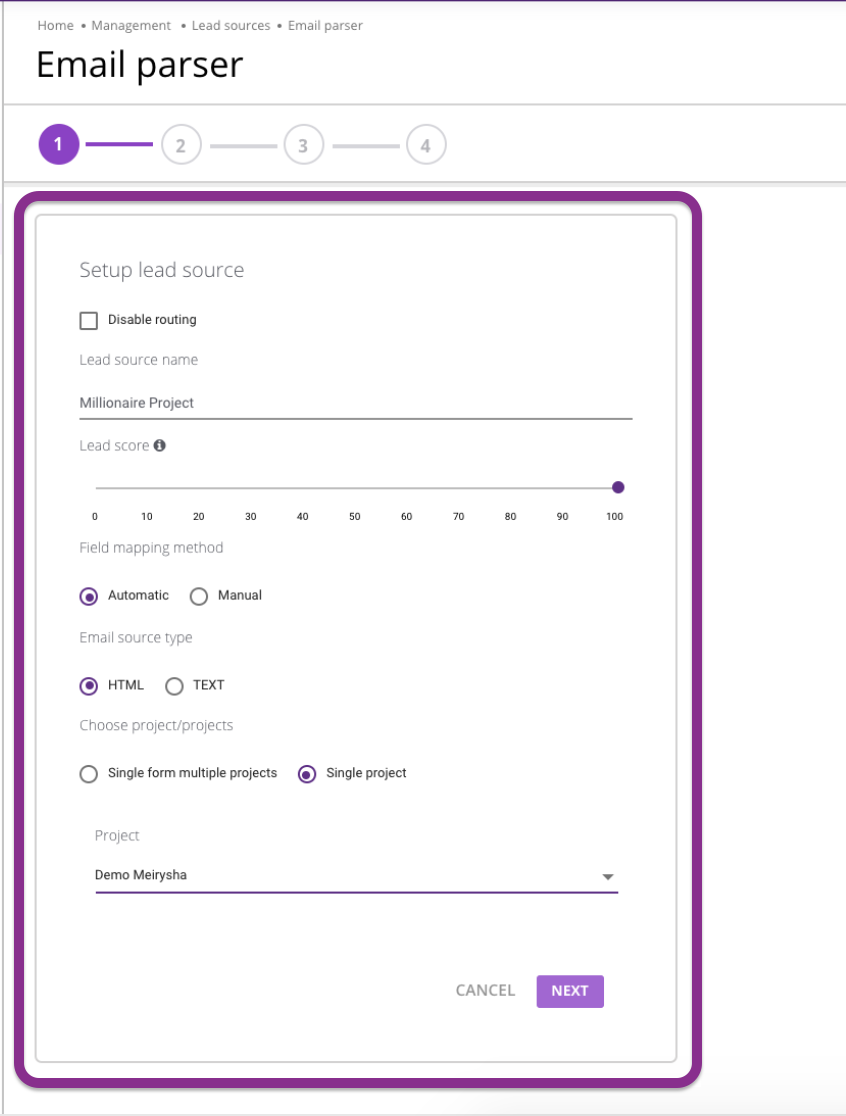 ◍ A unique email address will be generated, copy to clipboard and add that unique email address in your landing page/website.
◍ After inserting the unique email address, proceed to submit 2 test leads with different values.
Example;

Lead 1
Name: Testsalescandy
Email: testsalescandy@mail.com
Phone: 123456789
Lead 2
Name: Salescandytest
Email: Salescandytest@email.com
Phone: 01987654321
Click 'Next' once the 2 test leads have been submitted.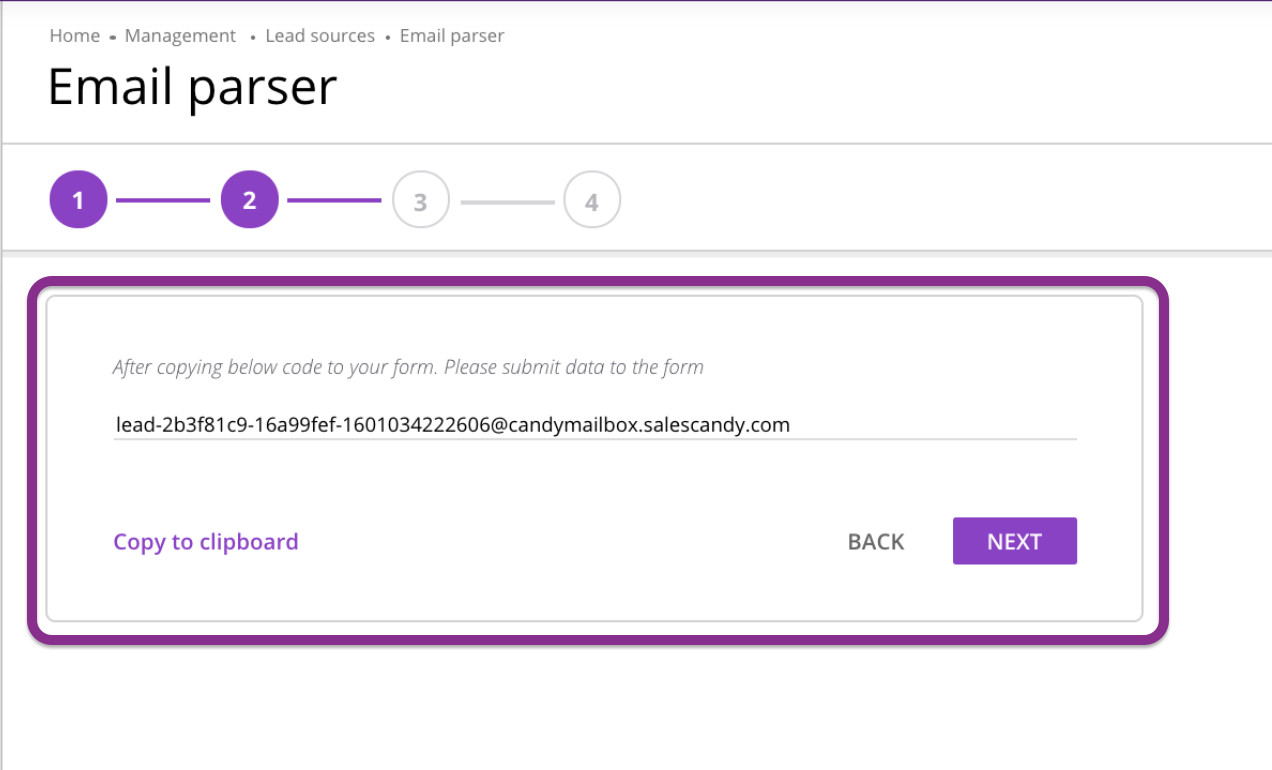 ◍ The mapped fields will appear for you to assign the input fields accordingly and click 'Save'.

◍ Lastly, proceed to activate the respective lead source in the lead source page.