Lead and action statuses are the list of options available for the salesperson to choose after an action has been taken by a salesperson for a lead. This option should be chosen by salesperson as a result of the conversation they had with the lead.

◍ You can find the Lead and action statuses column in manager portal under 'Settings'.
◍ This setting can be only edited/amended/change or delete by a Super Manager.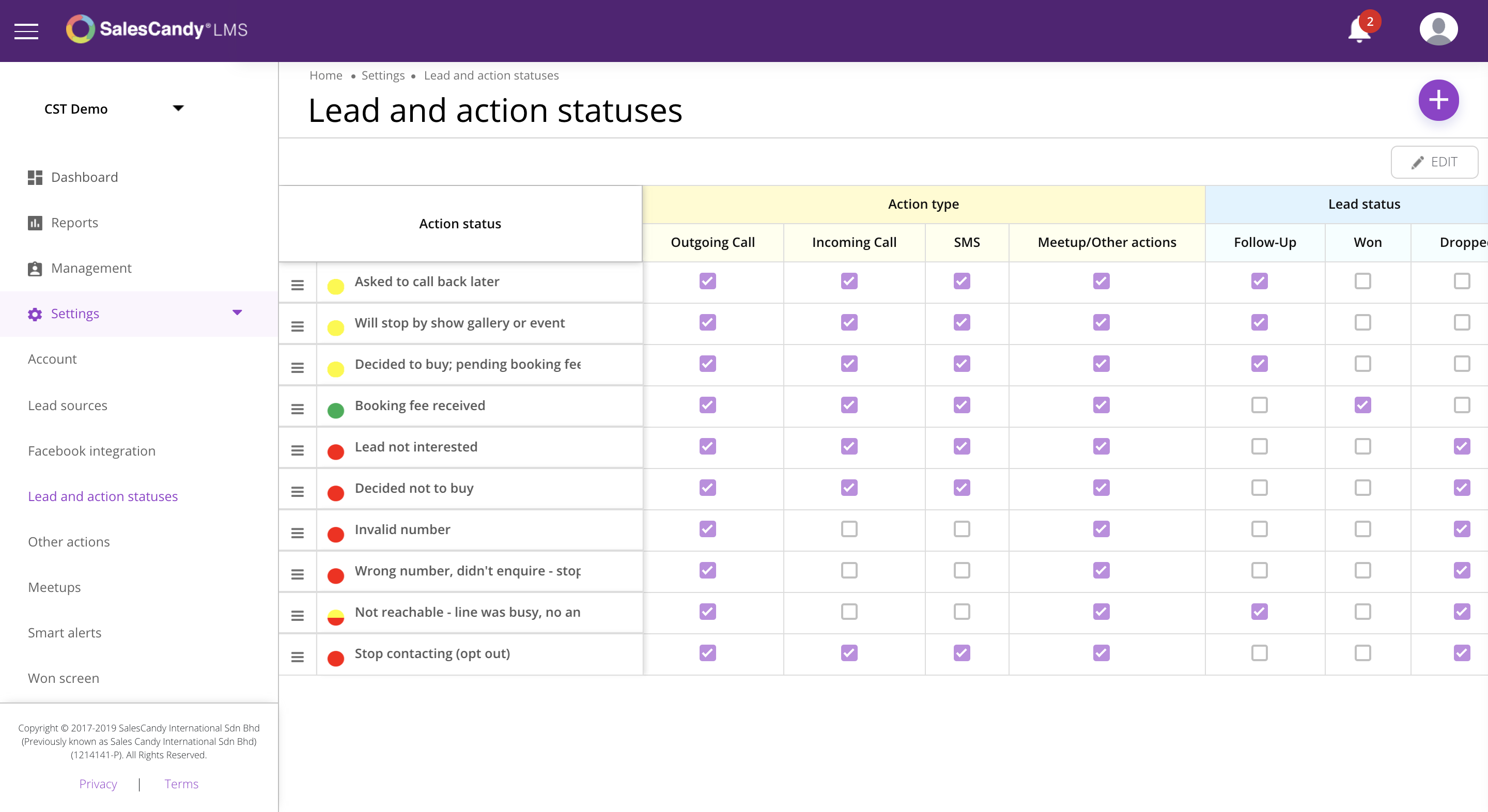 Please refer to the information on all the 4 columns under the Lead and action statuses settings table.
Action status
The list of options for a Salesperson to choose as a result of an action/conversation taken with a lead.

❏ Yellow > Follow-up lead status
A salesperson should consistently follow-up with the respective lead chosen under this follow-up lead status.
❏ Green > Won lead status
A salesperson will choose the won lead status when they have closed a deal with the respective lead.
❏ Red > Drop lead status
A salesperson will choose the drop lead status when they have identified that this is a non-qualified or quality lead based on various reasons.

Action type
◍ The action type should be selected based on the channel of communication made to the lead by salesperson or action available for the respective action status.

Lead status
◍ There are only 3 lead statuses which are follow-up, won and dropped and it should be related to the respective action status.

Considered as reachable lead
◍ Reachable lead is considered a quality lead.
◍ The reachable lead should be checked based on the respective action status to ensure the managers can track quality leads.
Note:

1. A Super Manager can customise the action status fields according to their organization's lead tracking requirement. However, each customised action status has to be mutually exclusive, unique and should not overlap with the meaning of another action status.

2. It is advisable not to amend, change or delete the Action Status after the account has gone live with our system as it would impact the chosen action status for existing leads in the account and this would mess the reports as well.