WhatsApp Business API is a messaging platform that allows companies to send secured messages to their clients directly. The WhatsApp Business API will be tied directly to a single phone number and provides a branded business profile. The easiest and fastest way to get access to WhatsApp Business API is via their main partner, Twilio.

Here's how you can apply and set up the WhatsApp Business API number;
1. Firstly, you need to ensure that your Facebook Business Manager is verified in order to setup WhatsApp Business API using Twilio as WhatsApp uses the Facebook Business Manager account to identify your business to safeguard the WhatsApp operating system.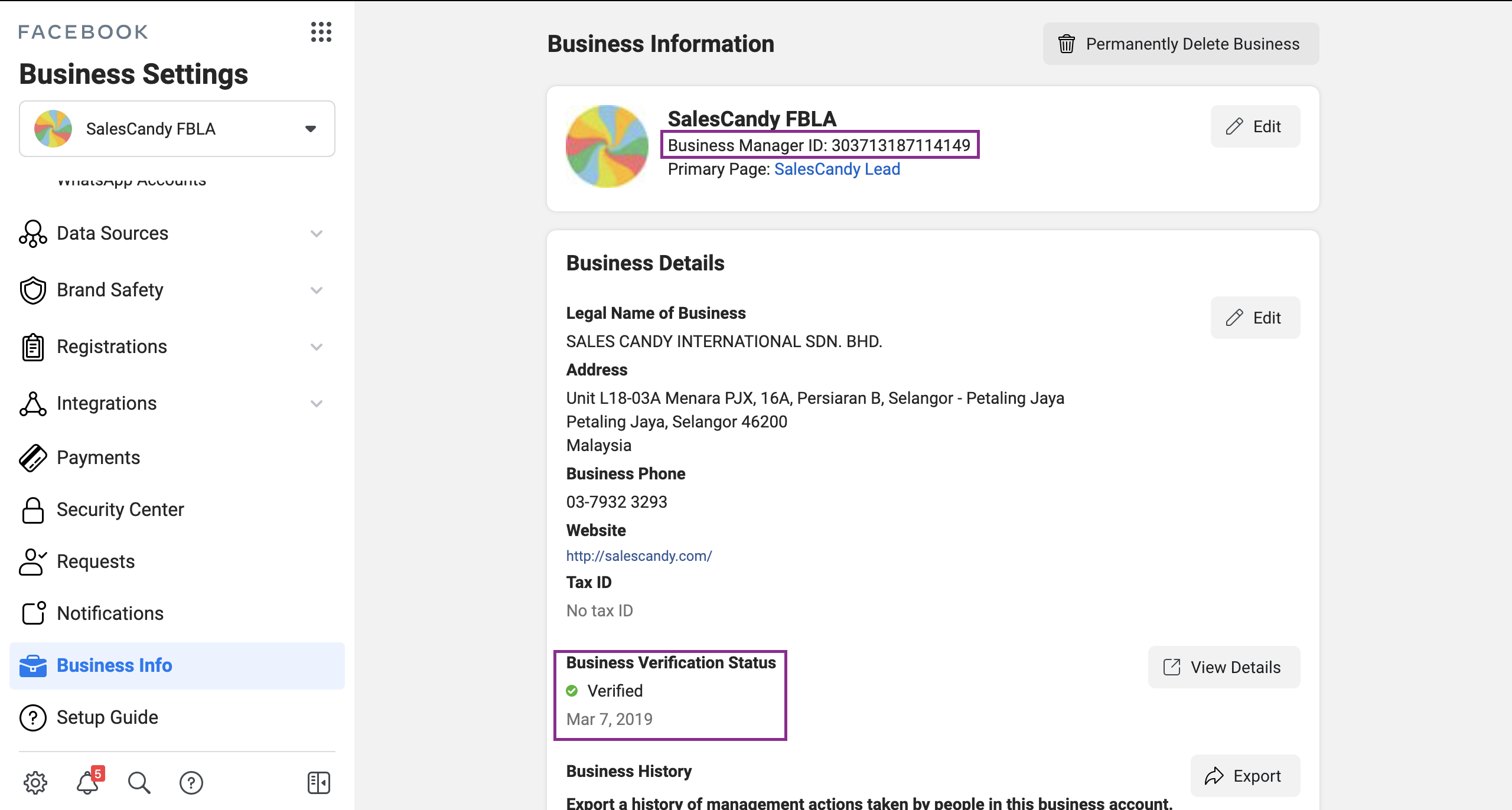 2. You will then need to purchase a new mobile phone number designated for only WhatsApp Business API. The chosen phone number should be enabled for sending and receiving the text message but we also recommend getting a number that can support both voice and SMS.
To purchase the phone number, you'll need to submit the relevant document as listed in the Twilio phone number regulation in order to adhere to the specific country's local regulations.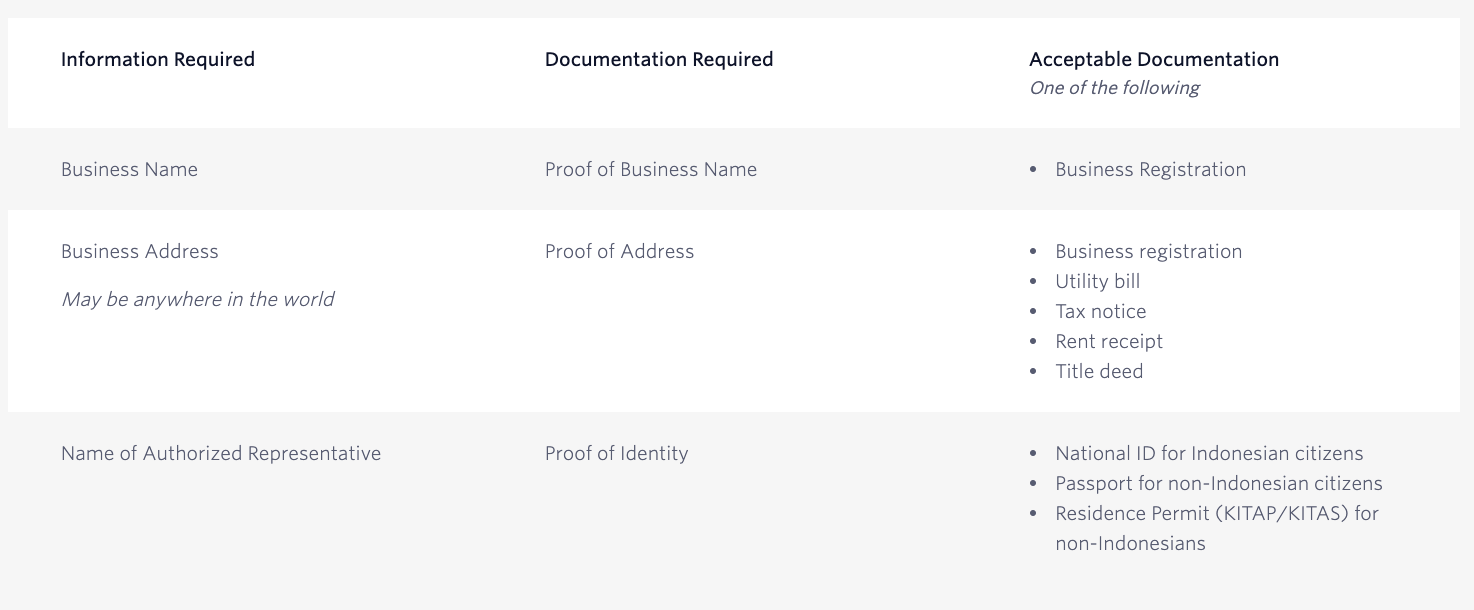 3. Once the mobile number has been purchased, fill out the request form to access the WhatsApp Business API to obtain approval from the WhatsApp Team.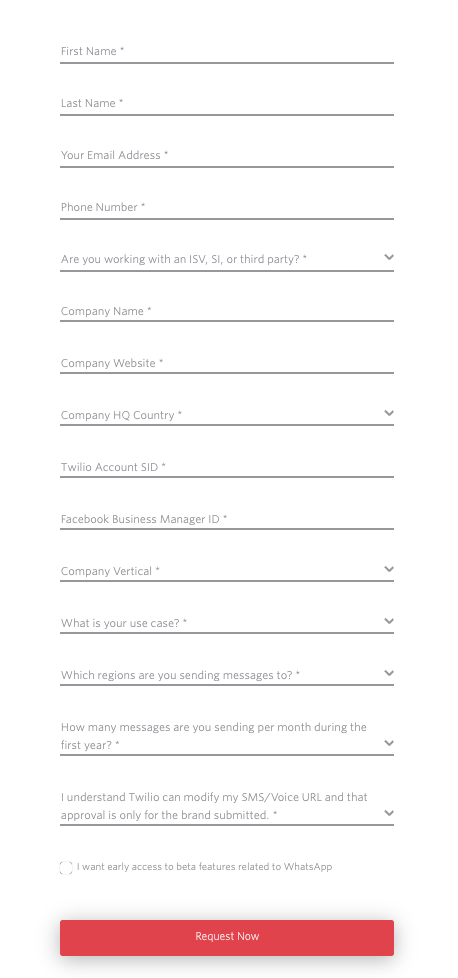 Note:- There is additional information required for a third-party vendor, independent software vendor (ISV) which listed as below.
Phone Number: The phone number where the user or business requesting access can be contacted, not your Twilio Phone Number.
Email Address: The address where Twilio will reach out with the next steps once your account is approved for use of the Twilio API for WhatsApp in production.

Note for ISV: The submitted email should go to whoever is managing the onboarding process. For ISVs, it should be your email address, not the client's email address.

Are you working with an ISV, SI or third party?:


∘

Since our Customer Success Team will be submitting the request choose the below option in the dropdown.
Company Name, Website, HQ Country: Your company's information. To avoid delays, this should be the same company name used in your Facebook Business Manager account, and the same name that will be displayed on the WhatsApp business profile, once you go live.

Note for ISVs: Complete these fields with the client company's information.

Twilio Account SID: You will be able to find your Twilio SID in your Twilio account dashboard.

Note for ISVs: This is the Subaccount SID where the WhatsApp sender will be provisioned. There should be one subaccount per client.

Facebook Business Manager ID
Company Vertical: Ensure to choose your corresponding business vertical.
Use Case: You will need to select the respective notifications, customer care or 2FA or user verification use case.
"I understand Twilio can modify my SMS/Voice URL and that approval is only for the brand submitted": Twilio may momentarily use your Twilio number's SMS or Voice URL to register your number with WhatsApp.
4. The Twilio team will contact or email you within 10 working days with the outcome of your request after your form submission.
5. Once you have received the approval, you can proceed to setup your Business Profile in Twilio in WhatsApp senders section. Click on the WhatsApp Sender, to add new WhatsApp Senders and complete all the information that will be visible to your clients. Then, click submit for the final approval by WhatsApp.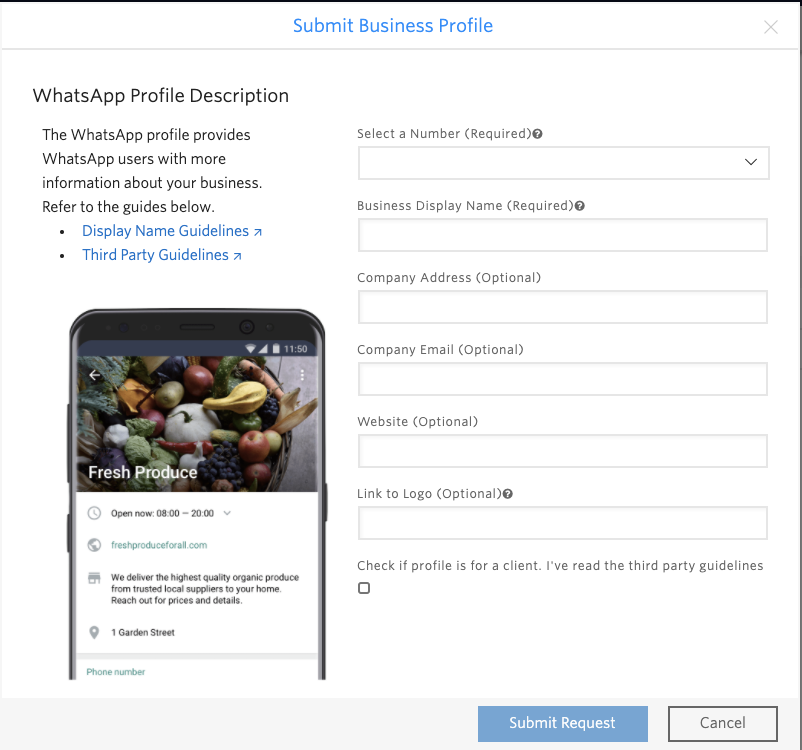 Note: You may have a brand name that you wish to use as the display name for your WhatsApp Business Profile which differs from the name of your company. If there is, you must clearly associate between the brand and your business and it needs to be displayed on your website and on the display name itself so that the WhatsApp Team can verify it.
For example, if your company is Johnny Mobile and your brand is "PizzaApp", then we would recommend using the Display Name "PizzaApp by Johnny Mobile." This association must be published on your website so WhatsApp can verify it.
❂ For clients under SalesCandy Subaccounts, please use the respective company name instead.
6. You can integrate with your WhatsApp Business API in the manager portal once this has been successfully approved.